A mobile application designed for Hungary's market leader real estate listing platform - ingatlan.com
ingatlan.com is the market leader of real estate listing portals in Hungary. Their main product is an online platform useful to anyone looking to buy, sell, rent or lease houses and apartments in Hungary. With over 2.5 million active monthly users and more than 100.000 real estate listings, ingatlan.com has been an indispensable service for real estate needs for the past 20+ years. I was brought on the team to design their first native mobile application for iOS and Android and find new use cases for users to interact with the platform on the go.
Product Strategy

UX Design

UI Design

Visual Design

Interaction Design

User Flows

Wireframes

Prototyping

Usability Tests
Product Designer (me)

Product Owner

UX Researcher

iOS Developer

Android Developer

2 Backend Engineers

QA Analyst
1 year from research to release
The application's appearance was a key aspect to consider. It had to feel familiar, resembling the online platform, bring something new to the table as well, all while respecting the company's branding guidelines and web-based design system. The target platform was a native mobile environment; therefore, the UI components had to follow the Material Design visual language for Android and the Human Interface Guidelines for iOS.
Personalized and easy searching
With a native mobile application, we could utilize useful features like accurate location-based services. From interviews, we gained insight into how people searching for apartments would like to use features on the go, based on location. We found an exciting use case that people time and again discover a neighbourhood they really like and want to search for nearby listings. Similarly, when going to an open house or a viewing, users are interested in alternative options in that area, especially since they're already there.
From these insights, we designed and built a feature that allows users to easily find listings in their vicinity and adjust their search radius. Forgetting the neighbourhood's name is not a problem, as users can always check their search history to remember where they've been exploring.
Another valuable insight from interviews indicated that search results could be overwhelming sometimes. A person who is listing their real estate may hire multiple agents to help advertise their property, and in that case, multiple listings show up for the same property. This can be frustrating for users and makes it challenging to identify whether they are looking at similar listings or duplicates. This is less prevalent in a desktop environment because of screen space, but it becomes increasingly challenging to identify duplicate listings on smaller devices.
For that reason, we built a feature that automatically groups duplicate listings, creating a more transparent and enjoyable browsing experience. This feature was later implemented into the main web platform.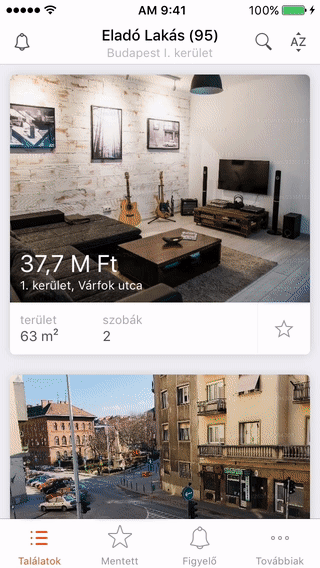 Never miss out on new listings
Finding your dream home is complex, and there are many variables involved from location, price through square footage and various amenities to narrow down on the ideal search for each user. Therefore being able to save these detailed search filters is very valuable. After a user creates their detailed search, they can save the search criteria, and they will be notified about new listings that match the requirements. The app immediately sends a push notification if a new listing appears that matches their unique needs.
A few months after the release, the app generated over 1000 daily active users. The application received a 4.5 average rating on the Appstore and a 4.3 average rating on the Google Play Store.
This project refined me as a product designer, and It was a great experience being a part of an agile interdisciplinary team to bring an app to life. Working with a Project manager, multiple engineers and a QA analyst, we grew closer after each two-week sprint and formed an effective and fun group. Through this experience, I built valuable communication and collaboration skills and gained a better understanding of how to work efficiently with a team.
​
An important takeaway was that sometimes you have to let go of your ideas. Not everything we design makes it into the final product, and that's okay. It just means we learned something new along the way!